Posted on
By Creative Kitchen Staff
Kitchen knives come in many shapes and sizes, but what knives do you actually need for your kitchen at home? Read on to find out.
Whether you're new to the kitchen, just moving out on your own, or are looking to revamp your kitchen toolkit, it's important that you have the right tools to make you successful. I believe there are THREE knives that are key! Pretty much any kitchen cutting task can be performed efficiently with these 3 essential knives.
To find out more about these and other knives, keep watching our blog and (if you're in the Fargo area), check out one of our knife skills classes.   
#1 Chef's Knife (or Cook's Knife)
I once heard someone say, "you can build a kitchen around a good chef's knife." According to commonly held kitchen wisdom, this is true. The Chef's Knife does 80% of the work in the kitchen. Traditional chef's knives have a wide blade that allows room for you to get a good grip for smooth chopping and dicing. In addition to a traditional chef's knife, I also think of a Japanese style Santoku knife when I think of an ideal chef's knife. Some people prefer the santoku for its lighter weight and thinner blade, while some people prefer a bulkier, traditional (German-style) knife. At the end of the day, it's really up to your personal preference, but there are some of my favorites: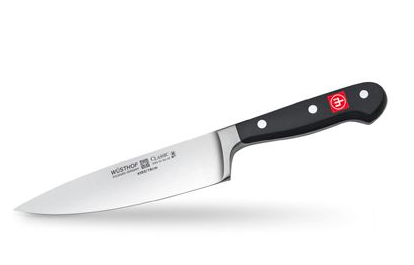 Wüsthof Classic Cook's Knife (Available in a few different sizes!)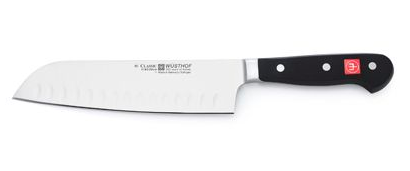 Wüsthof Classic Santoku Knife (Also available in different sizes!)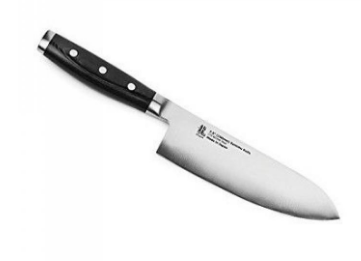 Yaxell Dragon 7.5 inch Santoku Knife
#2 Bread Knife
A bread knife has a serrated edge designed for breaking crusts and (of course) slicing bread, but a bread knife can be useful for many other tasks too! The serrated edge is great for piercing smooth surfaces like tomatoes and even cutting cake. This is why a bread knife earned its spot on my list. My favorite bread knife is the 9-inch Double Serrated Bread Knife from Wüsthof. I like the extra length for artisanal loaves and the unique double serrated edge is so sharp it leaves very few crumbs compared to other bread knives. Here's a close-up of the unique double serrated edge: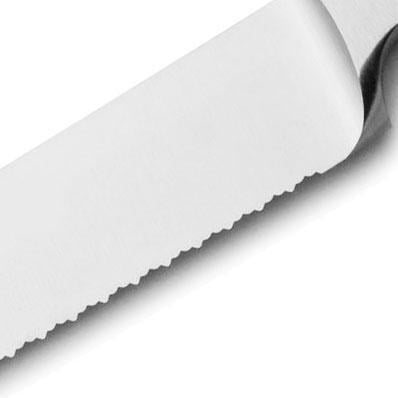 Just like the chef's knives, it really is up to your personal preference and what feels good in your hand. Bread knives are not used as frequently as chef's knives, so you may not need to have a forged Wüsthof handle. If your budget is tight, I also suggest the Opinel bread knife. It has a great traditional design and long reputation of quality from France for just $39.99. Either way, if you ask me, a bread knife is a must-have for any kitchen. Here are the ones I mentioned: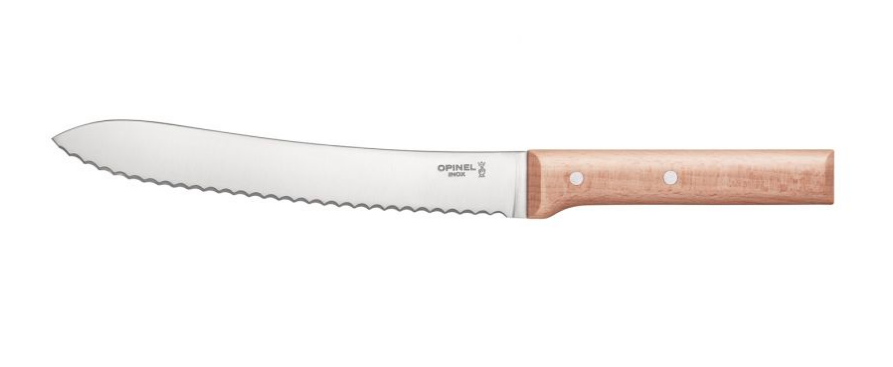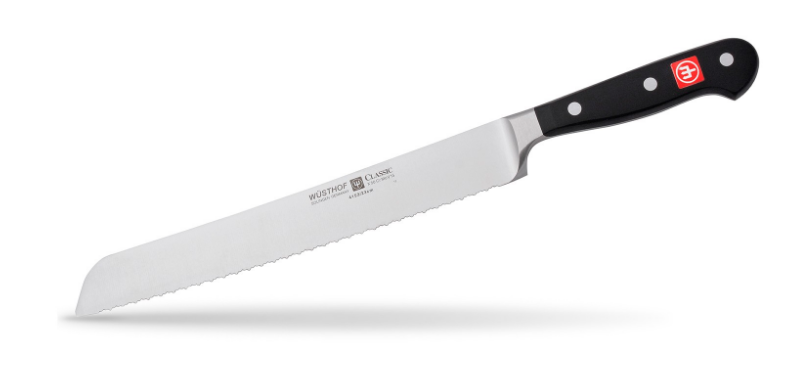 Wüsthof Double Serrated Bread Knife
#3 Paring Knife
A paring knife is a small go-to knife perfect for precision tasks like peeling, slicing, trimming, etc. In my experience, of all the different shapes and sizes of knives, this is the knife that people seem to be the most picky about. This makes sense, because if you use a knife all the time, you want it to feel great in your hand.  At Creative Kitchen, we are always chatting with customers who are trying to match one they've had for many years. We can't always accommodate (as some older knives are no longer made) but there are tons of great paring knives out there. Here's a picture of some of my favorites. Notice the different shapes: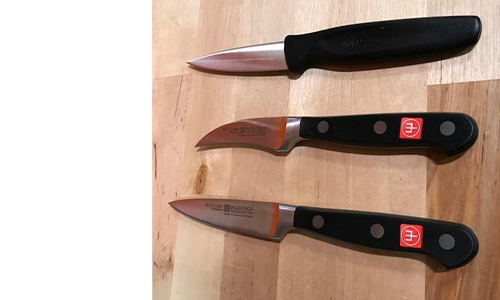 If you're in the market for a new paring knife, I suggest you think about your preference for weight, blade shape, and what tasks you will do with the paring knife. I like a good strong paring knife about 3.5 inches long. For me, this size is just right for many small tasks, like peeling, trimming, and slicing fruit. Wüsthof (clearly a favorite of mine) is a great brand for paring knives too, because of their long-lasting blades and comfortable handles. If you think you might want a lighter paring knife, check out ceramic ones made by Kyocera. They are available in a few fun colors.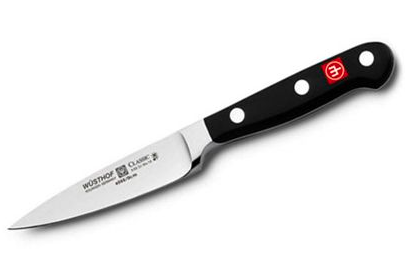 Wüsthof Classic 3.5 inch Paring Knife
In Conclusion
Whether you're just beginning to cook, looking to start a full knife collection, or you're revamping your kitchen tools, these three styles of knives really are must-haves for the home cook.
At Creative Kitchen, we believe it's best to try out a knife before purchasing. If you're in the Fargo area, stop by! Creative Kitchen offers an assortment of 8-inch chef's knives for immediate testing, (you can even chop veggies to get an idea about the ease and comfort of each knife.) We also let you hold any knife from our display case, so you know you love the feel in your hand.
Do you have a favorite paring knife? Let us know in the comments below.